Trudie Styler, our patron, as well as being an actress and film producer, is well known for her Dukesarum kennel of Wolfhounds. Her involvement in the breed goes back to the mid 1990s and her first pair of Wolfhounds, Gideon and Finbar.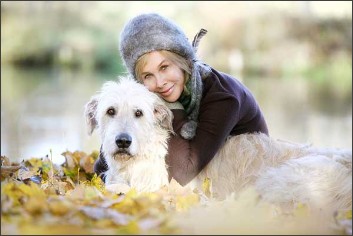 Since then Trudie's interest in the breed has continued to grow and the Dukesarum hounds are regularly in the prizes on the show circuit. They enjoy the lovely surroundings of Trudie's home and holiday breaks in Italy with husband Sting and their family. When not with Trudie they share their life with Glenys Gwilliam who manages their day to day care. With the help of Glenys, Trudie has expanded and developed her line, bringing dogs in from America, Europe and Ireland. In addition to being among the early pioneers in the UK using frozen semen (from one of the early hounds who lived to over ten years), Trudie's interest in the breed is very much focused on health and longevity as well as producing good Wolfhounds.
As an enthusiastic supporter of the health initiatives in the breed, her hounds are heart tested under the
IWHG regional testing scheme
by our cardiologist Dr Angela Bodey. Glenys hosts the day, ensuring it runs smoothly for local IW owners who bring their dogs for testing.
We hope Trudie will have a long involvement with the group and
feel sure her enthusiasm will help us take us forward into
even more proactive ventures in the future.