The IWHG has been looking into the longevity of UK owned/bred Irish Wolfhounds for some years now via our health and lifestyle-based Veteran Study questionnaires. We continue to hope that the information provided by owners and breeders will help us gain a better understanding of the factors, besides genetics, which may contribute towards a long life.
We have recently made a few changes to the questionnaires, which should now provide streamlined access to the Longevity Recognition registers. Owners can now elect to have the basic information given on their Veteran Study questionnaires shared to these

registers

if they wish.
Please join our IWHG Longevity Recognition Programme by continuing to tell us about your 'Golden Oldies' – past and present – and celebrate their longevity by having their names added to the Longevity Recognition registers.
Photos of your hound (as a puppy, adult and veteran) would be most welcome.
You can post these on the
IWHG Facebook
page or
email them to Caroline Sheppard
.
By completing the questionnaires you agree to the IWHG using the data you supply to provide reports on the health status of UK veteran Irish Wolfhounds. Your personal details will not be shared publicly and will only be used, in confidence, by the IWHG.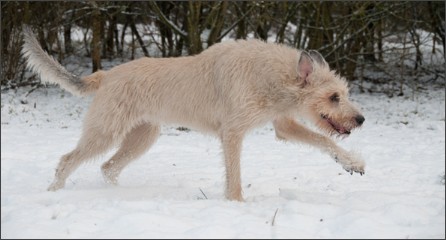 One of our "Superveterans" enjoying the snow at 10 yrs 10 months (lifespan 11 yrs 11 months)
Heart testing
The IWHG subsidises heart testing for superveterans (eight years and over
). These hounds are helping in valuable research into Wolfhound health in general.
Click here for full details of our Regional Heart Testing Scheme.