IWHG Longevity Recognition
We believe that longevity in our hounds should be celebrated, so we urge you to complete an IWHG Veteran Study questionnaire for all your UK Kennel Club registered hounds (past or present) who reached seven years of age or more.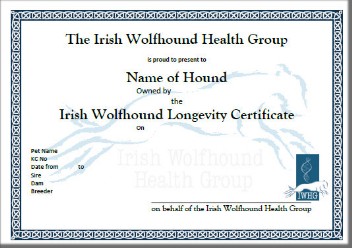 T
hese redesigned questionnaires now give you the opportunity to indicate whether or not you would like your hound to be added to the Veterans' Register or if you wish to apply for a Longevity Certificate.
If you currently own a hound who is included on the Veteran Register you will be contacted annually for an update just before his/her birthday. If all is well, your hound will receive a birthday card and hounds with super-veteran status (ie aged 8 years or over) will be acknowledged as such on this register.
Don't forget that super-veteran hounds are entitled to subsidised heart testing
Owners of any hounds who reached eight years before they passed away may apply for a Longevity Certificate, suitable for framing, to commemorate their hound's long life.
The hound's name and dates are then added to the Certificate Holders' Register.
Please note that all UK Veteran Wolfhounds who departed during the last 20 years
are eligible to have their details included on the registers.
Applicants' hounds can be included on the Longevity Recognition Registers
when their owners have completed an
IWHG VETERAN STUDY questionnaire:
Roll of Honour
When submitting your application to be included on the IWHG Longevity Recognition Registers
a photo of your venerable hound to add to our
roll of honour would be very welcome.
Please send your photos here.

(died at 8 years or more)