Like many Irish Wolfhound owners, I fell in love with the breed long before I was able to own one, this grew to 2, 3 and more. Irish Wolfhounds are my companions, my friends and my hobby in showing and breeding.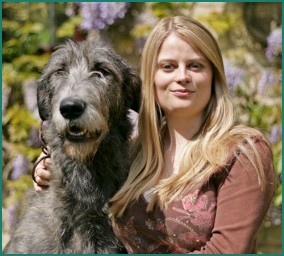 I run a small but very successful dog and cat grooming parlour, my professional background has always been canine related. Starting in rescue shelters dealing with behavioural issues and then moving into lecturing animal care and bespoke canine courses. I hold formal qualifications in animal behaviour and hope to continue my studies over the next few years.
I am also a committee member on the British Dog Groomers Association, a role that allows me to voice my views about my industry and strive to improve it.
I am the current coordinator for the Irish Wolfhound Regional Heart Testing scheme.
I have owned Irish Wolfhounds since 2008 and have been amazed with how lovely the people in the breed are. With the support of my close friend and mentor, Jan Pain, I stepped into breeding. Since owning Wolfhounds I have bred three litters and I hope that I am able to further the health of the breed and continue the success and hard work of my mentor who entrusted me with my foundation bitch.
I am also on the Society B list and Club C list for judging.
Wendy Heather, September 2016