I
was delighted to be invited to join the IWHG in May 2017, taking over the Treasurer role from Jackie Watson. I'm the most northern of the IWHG committee members, living in rural Aberdeenshire in the north east of Scotland with my wife Denise and our two children, Thomas and Emily.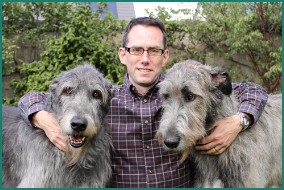 Our first Irish Wolfhound, Torfhinn, came into our lives in June 2013 and I immediately developed a strong affinity with the breed. Our second Wolfhound, Thor, joined us in July 2016 and has started his show career under our affix "Torrfionn", being the Scots Gaelic translation of the Hill of Fare, which rises 1,500 feet above our village.
Our most recent addition, Luna, joined the Torrfionn clan in June 2017. I'm a qualified Chartered Accountant with over 20 years' experience in the oil and gas industry. I'm currently Chief Financial Officer of an oil and gas engineering company, but have held several other senior finance positions during my career which have allowed me to travel all over the world and experience many different cultures and customs. It's always good to come home though, especially to the greeting of our wonderful Wolfhounds.
I also serve on the committee of the Irish Wolfhound Club of Scotland.
Steven Ritchie, October 2017