In 1968, my husband Bernard and I bought our first Wolfhound from the Sanctuary Kennel of Margaret Harrison and May Atfield. In 1970, a foundation bitch joined us from the Brabyns Kennel of Sue Hudson and we registered our kennel name, Braehead, a few months later. All Braehead hounds go back to these two in one way or another.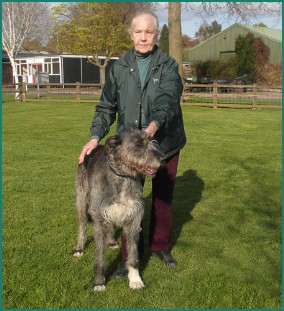 Having turned down three invitations to judge before I felt competent to do so, I accepted my first appointment in the late 1970s. I was passed to award Challenge Certificates in the breed in 1986 and have done so many times since, including Crufts in 1998. I have judged the breed at Championship level in Europe and at match level in the United States, and have judged many other breeds at Open Show level including Group and BIS. I also judge Otterhounds at open level.
Member of Kennel Club since 1993; l
ife member and past committee member of the Irish Wolfhound Club; f
ounder member and current committee member of the Irish Wolfhound Society; p
ast committee member of the Otterhound Club; p
ast committee member, then secretary, then chairman of Dorking and District Canine Association.
I write the breed notes for 'Our Dogs' weekly paper, which I have done since 1982 and have written many articles for them and various breed publications. I currently proof read for IW World, the magazine of the European IW Congress.
I have given many talks on the history of the breed and its relevance to the standard.
Miranda Brace,
September 2016