I've had wolfhounds for just over 20
years, having got our first girl, Spooky, in 1996. She started a fascination with this laid-back breed. I find them very easy to live with, they get on well as part of our family and that is why I love them so much.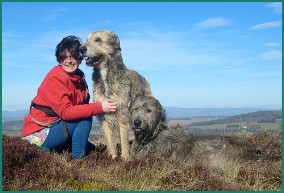 Spooky died at just over 10 years old of DCM. Daisy and Myrtle are shown in the photo. Daisy was our second wolfhound, who we lost aged 9 years 7 months from bloat. Myrtle is still with us aged 5 years 6 months and we have been joined by Florrie who is 2 years 6 months now.
We live in Scotland and we like nothing better than having a lovely walk in the Scottish countryside, either up a hill, through some woodland or along a beach, or best yet, a combination of all three!
I have a degree in botany and a PhD in molecular genetics and work as a laboratory manager in a tissue culture laboratory.
I'm passionate about working to improve the health of our breed, and naturally my interest lies in the genetics of inherited diseases, and how we can utilise breeding strategies to minimise the risks of producing puppies who suffer from inherited conditions. I'm also interested in understanding the genetic analysis of our breed at a population level, and how we can use information like coefficient of inbreeding (COI) or ancestor loss coefficient (AVK) to make informed breeding decisions when making mate choices for our own wolfhounds.
I hope to breed from Florrie in the future, she has a pedigree full of long-lived hounds, so I need to be very careful when choosing a mate for her, and try to build on the hard-work of her breeder: to breed healthy, robust and long-lived wolfhounds.
Maura Lyons, September 2016