We first started our love affair with Irish Wolfhounds in 1985 when we bought our first girl. Since then, our numbers have gone up to six and down to two all under our Laoiseach affix. We have bred two litters - by choice. The most recent in 2009 from Mascotts Hilary and Mascotts My Cavanagh. Our proudest moment was making Mascotts Cassis Laoiseach to champion.
In our other world we set up a hotel which became a very successful wedding venue. I was a director and company secretary of the Anglesey Tourism Association for over ten years, and owned a busy cafe and bistro on the sea front in Beaumaris.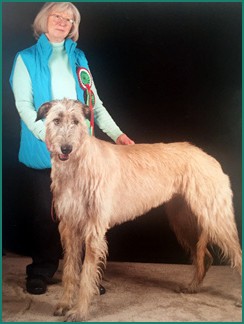 I have always worked with Rescue doing home checks, assessing dogs and organising relocations, together with undertaking home checks for puppy homes.
At the moment we only have one wolfhound, a beautiful two year old girl, Lori, bred by Louise Pinkney - Hydebeck Dream of Lorelei At Laoiseach