A research biochemist and senior lecturer in biochemistry at UCL during my career, my love for science has always been linked to my love for nature, wildlife, the natural world and for dogs. Recently retired from UCL and not really at home with retirement I have re-awakened my interest in all aspects of health and disease by on-line tutoring in the biosciences and am happy to be re-joining the Health Group,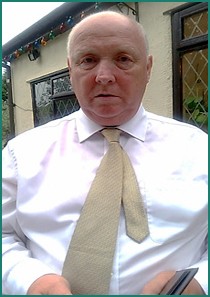 I was on the health committee of the Irish Wolfhound Club from the outset of the group but since 2008 my wife and I have taken a rest from showing and we now no longer breed Irish Wolfhounds. Jan and I have owned Irish Wolfhounds since 1986, when our first hound, bought from Shirley Sharpe was a beautiful dark Telgar hound called Samantha.
We were smitten and of course pretty soon got the Wolfhound bug and started to show in a small way. Our second hound from Louise Nowell at Hydebeck in 1991 was as gentle and soppy as they come and from then on we were determined to breed hounds of excellent temperament and type.
Our foundation bitch for the Shanimarle affix was one of the famous 'four champions in one litter' the only champion bitch Ballyphelan Bara Brith of Shanimarle.
Lizzie was an amazing dog, knew how to show herself and was our first champion. We learned a great deal from Pam and John Sumner and our other friends in wolfhound including Sandy Surrell and Kathy Coleman and are always grateful for all the help and support we received in those early years.
Lizzie went on to produce a litter to Ch Bokra George and this gave rise to our rather special Ch Shanimarle Bay Brigand (Bailey) who won BOB at Crufts in 2000 and was a multiple CC and group winner. I believe his young sister was an even better dog but we lost her to pneumonia at only nine months and from that point onward I became an ardent follower of wolfhound health issues.
I was on the Irish Wolfhound Club committee for many years going back as far as when Ron Baird was chairman, followed by Johnny Briggs and the wonderful Dave Malley. We had some wonderful times and club shows and rallies.
We have had a super time showing and breeding wolfhounds winning many CCs and raising three champions, but most of all having the privilege to have them around our home has been the best thing.. They are wonderful dogs with amazing qualities of calmness and serenity. We are now Wolfhoundless and actually dogless at the present time, although I am sure that won't last forever. We may not have another wolfhound in the future but I still want to help the breed as much as possible.