I have been obsessed with Irish Wolfhounds since I was eight years old, so was delighted some 22 years later when I was finally able to share my life with one. Willow joined our family at the beginning of 1990 and we have never been without a Wolfhound (or five) since. Willow's long and healthy life – she lived 'til she was over 12 – piqued my interest in the breed's longevity and this is one of the areas I am covering as an IWHG member.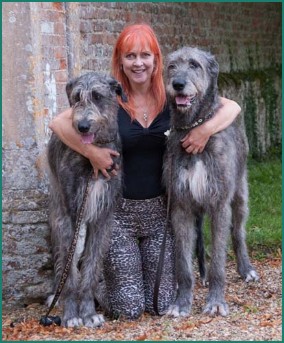 We bred our first litter, from Willow's great-great-great-niece, in 2002 and have had just two more litters, from related hounds, since then (in 2008 and 2016). From 2003-2008, I was secretary of the Irish Wolfhound Rescue Trust. I then served for three years on the IW Club committee and although no longer a committee member, I still hold the position of trophy steward for the club.
My first championship show judging appointment was in 2009 and I have awarded CCs five times to date. Although I enjoy showing my hounds and have made up champions, the health and welfare of the breed has always been my passion. In 2016, I set up "Practical Aid for Wolfhounds" (PAWS) with a group of local Wolfhound enthusiasts. We aim to help owners who are facing some of the unique challenges involved with owning a giant breed.
Having previously been a member of the IWHG, I am delighted to be invited back. Working with this dedicated group of people will provide another opportunity to be involved with aspects of Wolfhound health and should also prove a natural "fit" with PAWS.